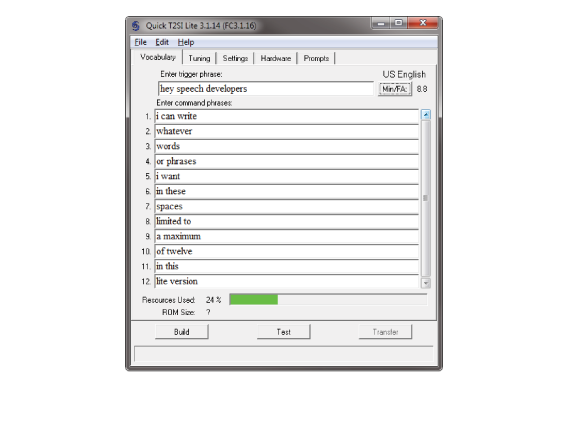 The world's first and only PC based Text-to-Speaker-Independent (T2SI) development tool available for an embedded platform.
Quick T2SI Lite software allows the development of Speaker Independent vocabularies in a very easy Text-to-Speech fashion. This enables very quick and efficient development of Speaker Independent voice recognition applications.
€149.00 Excl. VatAdd to cart
T2SITM incorporates the latest advances in neural networks combined with Hidden Markov Modeling to create a powerful phonemic recognizer, using text entry to create, edit, build and download embedded vocabularies in just minutes.
The Quick T2SITM Toolkit includes PC based software to build SI sets and an RSC-4x Demo/Evaluation Board for final real-world testing on an embedded platform.
Speaker independent sets can achieve the highest accuracy through several key approaches:
Word substitution and experimentation in the Quick T2SI Toolkit.

Word pronunciation and phonetic editing capabilities in the toolkit.

Custom neural nets can quickly be created by Sensory to decrease error rates by up to 50%.
FAST EDITING & DEVELOPMENT OF VOCABULARY SETS
Push-button development

Automatic generation of pronunciations

Pronunciation testing and tuning capability

World-bet and International Phonetic Alphabet editing

Speech synthesis pronunciation modeling & feedback

Phonetic keyboard with pronunciation examples

Boolean selectable alternate pronunciations
ACCURATE SPEAKER INDEPENDENT RECOGNITION SETS
High noise immunity

No accuracy surprises in final products

Selectable out-of-vocabulary rejection

PC & embedded testing capabilities

Fast downloads to embedded test platform

Speech synthesis feedback aids accuracy tuning
OTHER FEATURES & CAPABILITIES
Fast time to market

Unlimited sets with tens of words per set

Built-in word spotting for more natural phrasing

Trigger word modeling for hands-free applications

Controllable listening windows for accuracy tuning

Multi-lingual support
See the [documentation] to learn more.
See the documentation to learn more.